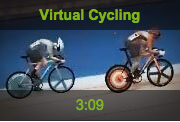 For the uninitiated, Track Cycling is one of the most exciting sports you can watch live but it's not always easy to get tickets and there aren't many velodromes to visit anyway; that's no longer a problem with Winner Casino's Virtual Cycling, especially if you like to place the odd bet while enjoying the action. Virtual Sports are a constantly running stream of computer-generated sporting events and you can read more below.
Virtual Cycling Betting
You can reach the cycling by clicking the 'Virtual' tab on the main Winner Casino screen and then using the slider beneath to find the Virtual Cycling button.
There's a countdown timer to the next event and the main screen displays the form guide for the upcoming event unless there's a race underway in which case you can watch the action. Below that screen there's a betting form and it's here you need to make your wagering decisions.
There aren't too many betting options because you only have three minutes between races so the choices are the outright winner, Forecast (order of the top two) and Tricast (order of the top three).
Once you've made your choices you can sit back and watch the realistic action as the riders fly around the track, accompanied by some genuine-sounding commentary to keep you up to date with what's going on. The races are very short and when it's over you'll be paid your winnings or left to contemplate your loss – never mind though because you can jump back into the next race which is just another three minutes away.
Virtual Cycling is a great way to place a few bets and watch some cycling action; it's very realistic and worth a look for any sports betting fans – check out some of the action below.
Jump straight to another Winner Casino virtual sport by clicking one of the links below: