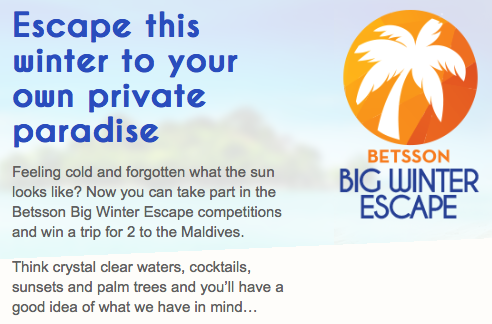 Christmas is over, it's the new year and what is there to look forward to now that the drinking and festivities are over? Well we'll tell you – Betsson Casino are offering players a chance to win a five day/for night luxury holiday in the Maldives for to people.
There are actually three of these prizes available and you can win one by getting the highest return (wins minus bets) by playing twenty rounds on the following slot machines between the dates listed below:
Jackpot Tournament 13th Jan – 26th Jan
Table Games  27th Jan – 9th Feb
Blackjack
Roulette
European Roulette
Slots 10th Feb – 23rd Feb
Winners will be announced on the website on 27th Jan, 10th Feb and 24th Feb respectively. For more information click here and navigate to the promotions tab.