Scratchcards are almost certainly something you love or hate – for some they are a quick and easy opportunity to buy yourself a chance of winning a cash prize, for others they are a way to lose money quickly with very little chance of any recompense.
Look a bit deeper into the subject though and you will find that scratchcards – particularly the little cards you buy at newsagents and other shops – are all part of a rigid computerised system which is of course ultimately designed to generate a profit for the National Lottery or some other organisation in the same lottery business.
Scratchcards are released in ranges containing limited numbers and may be as simple as scratching off silver coverings to try and match three objects or amounts. More complex cards ask the player to match series' of numbers in an attempt to win. Each range of cards will have a total prize fund so there's a no randomness involved at any point. This brings up an interesting issue in which cards offering huge prizes can still be on sale even after those jackpot amounts have been won.
Buying a scratchcard from a shop in the UK will give you about a one in five chance of a win and perhaps those odds are reasonable enough for those who like a quick dabble.
Online scratchcards are generally similar to offline ones and you can find them at all our recommended casinos. They tend to be at the simpler end of the spectrum so in the screenshots below you can see the 'Buy Card' button; press that and you can scratch the card yourself or use the 'Scratch All' option in the hope of revealing three matching symbols and a win.
These cards are not produced in limited runs with fixed prize funds however – they work in the same way as online slots do in that each card has a set RTP and it's contents will be produced by a random number generator. The return for the card below is 86.00%, well below the level of a slot machine but these are different games for different people. Those who like scratchcards will always like them and it's true that they offer a different gameplay experience.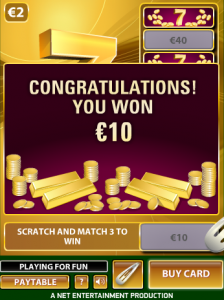 These are a selection of Bet Victor's scratchcards, or Instant Wins as they're called on that site; try them out here.
| Name | Min/Max Bet | Top Prize | RTP | Developer |
| --- | --- | --- | --- | --- |
| Big Foot | £0.20/£200.00 | 1000x | 90.86% | NextGen |
| Call of the Colosseum | £0.20/£5.00 | 1000x | 95.53% | NextGen |
| Doctor Love | £0.20/£200.00 | 1000x | Unknown | NextGen |
| Doctor Love on Vacation | £0.20/£200.00 | 1000x | 85.64% | NextGen |
| Emperor's Garden | £0.20/£200.00 | 1000x | 95.47% | NextGen |
| Foxin Wins | £0.20/£200.00 | 1000x | 90.72% | NextGen |
| Genie Wild | £2.50/£150.00 | 1000x | 95.52% | NextGen |
| Gorilla Go Wild | £3.00/£180.00 | 1000x | 95.43% | NextGen |
| Irish Eyes | £0.01/£2.00 | 1000x | 85.64% | NextGen |
| Irish Eyes 2 | £0.20/£200.00 | 1000x | 90.72% | NextGen |
| Medusa | £0.20/£200.00 | 1000x | 95.17% | NextGen |
| Merlin's Millions | £0.20/£200.00 | 1000x | 95.17% | NextGen |
| Oil Mania | £0.20/£200.00 | 1000x | 95.44% | NextGen |
| Pandamania | £0.20/£5.00 | 1000x | 90.43% | NextGen |
| Ramesses Riches | £0.20/£200.00 | 1000x | 85.64% | NextGen |
| The Codfather | £0.20/£200.00 | 1000x | 90.72% | NextGen |
| The Snake Charmer | £2.50/£175.00 | 1000x | 95.52% | NextGen |