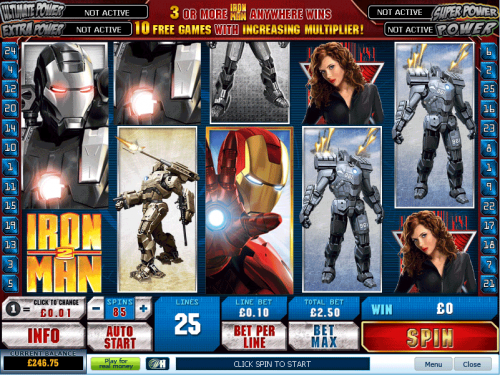 **From April 2017 all Marvel slots have been removed from online casinos**
If you are enjoying the Iron Man series of movies then there's no reason to suspect you won't like the Iron Man 2 online slot machine.  There's a convincing school of thought that the movie Iron Man 2 was not quite as impressive as the original Iron Man but the slot machines are the opposite; the new version is an improvement in pretty much every way over it's predecessor.
It's another Playtech powered offering meaning that the graphics, the sounds and the gameplay are excellent; Iron Man 2 has five reels and twenty five paylines (there's also a fifty payline version) and as soon as you play it you're whisked into the world of Marvel comic books.  The symbols are all related to the story and we can see Tony Stark himself, his foxy assistant Pepper Potts, arch-enemy Ivan Venko and a selection of various iron men, some of which actually look fairly similar.
This fruit machine is one of the few around that feature 'stacked' reels; these are just symbols which cover more than one vertical space on the reels and while they produce a different spin, there's not much evidence that stacked reels add or detract from your winning chances.
Bonus Features
There is no separate bonus game but Iron Man 2 offers enough other features to keep the slots fan coming back for more; there is of course a 'wild' bonus symbol which pops up frequently to combine to make winning lines but it's the 'scatter' feature which will probably hold your attention for longer.  If you can spin the reels and land three or more scatter symbols you'll get ten free spins for your effort; a 'wild' symbol will stay on the centre reel while all spins are in progress and a multiplier increases 1x with every spin.
Iron Man 2 is connected to Playtech's progressive jackpot network which means the player has a chance of winning some immense cash prizes.  If you are betting higher amounts, your chances of winning this jackpot are proportionately greater so don't be shy.
Verdict
You can bet up to €1 per coin on this machine which means it's possible to spend €250 per spin if you're playing the maximum twenty five paylines.  This results in a pretty decent jackpot of €30,000. Iron Man 2 is a classy slot machine from a capable operator which won't disappoint.