♣ Blackjack Guide   ♣ Blackjack Strategy   ♣ Card Counting   ♣ Blackjack Rules
Any visit to a bricks and mortar casino should really include a session at the Blackjack table; it's one of the iconic casino games and if you come prepared with a tuxedo and a cocktail you can begin to live out those James bond fantasies.
Blackjack History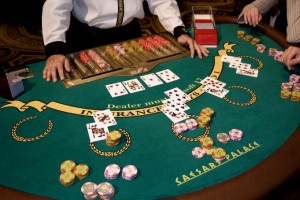 The basic game can date itself all the way back to the beginning of the 17th century when a card game called Ventiuna (twenty one in Spanish) was mentioned in a group of short stories by Miguel de Cervantes. The book is called Novelas Ejemplares and one of the tales is titled Rinconete y Cortadillo. The title characters are a couple of chancers who know how to cheat at Ventiuna.
The game progressed from Spain throughout Europe, finding it's way to the United States in the 19th century. The term 'Blackjack' derives from a bonus which was paid there if a player's hand contained an ace of spades and a black jack – that bonus was short lived.
Blackjack Rules
The game is played between the player(s) and the dealer and the idea is to beat that dealer. This is done in the following ways:
Obtain a final score higher than the dealer without exceeding 21
Land a Blackjack with the first two cards – a total of 21 points
Allow the dealer to 'bust' with a score of +21
All player are dealt two cards to being with after which they can:
Hit – take another card from the dealer
Stand – do nothing
Double Down – take one more card only and double their bet
Split – this option is available if the first two cards have the same value. The player can choose to split and play with two hands rather than one.
Surrender – an option in some games, a player can surrender after viewing their first two cards and regain half of their wager
The dealer's first card is dealt face up and if it's an ace there's an option for the player to take 'insurance'. This is a 2/1 bet, separate from the main betting, in case the dealer lands a Blackjack.
View all our reviewed Blackjack games by clicking one of the links below.