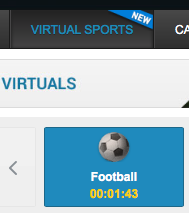 Betting on football on a Saturday afternoon is one of the pleasures of a weekend afternoon; betting against your own team means you either win some money or win the match. Those who are really keen on sports betting can extend their betting to evening and midweek matches but what happens when there are no live matches available? Bet Victor might just have the answer with it's Virtual Football which forms part of it's Virtual Sports section.
Click here to check out Bet Victor's Virtual Sports
Virtual Football is a continuously running set of highlights from fictional matches, each of which last just a couple of minutes. The matches are computer generated and of a very high quality; we mentioned in our Virtual Sports overview that the graphics are reminiscent of an updated Sensible Soccer. The teams are just about fictional and include teams such as the Mersey Blues and the Chelsea Pensioners.
Virtual Football Betting
When you click the 'Football' tab below the top menu you will see either a game in progress or a a countdown until the next one. It's during this countdown that you get the chance to place your bets.
There aren't quite as many betting options here as on a real life match but then you only get 90 seconds to place any bets. Bets available are the overall match result, a range of correct scores, total goals (+/-2.5 goals), double chance and number of goals in each match.

There are no form guides here as there are in the Virtual Horses or Dogs so you'll just have to rely on the odds being a true reflection of the potential outcome.
Click the odds to place your bets which will appear on the Betslip in the top right hand corner. When you're done click 'Place Bets Now' and sit back to watch the action unfold.
Virtual Football is good fun, especially watching the games play out in front of you – some of the goals are truly spectacular and there are no tap-ins. It's certainly worth a few minutes of your time. Watch France miss a penalty below:
Jump straight to another virtual sport by clicking one of the links below: