♣ Roulette Strategy (1) (2)   ♣ Roulette Tips   ♣ Roulette Betting   ♣ Roulette Rules
Roulette is an inescapable part of any visit to a casino; even if you're heading straight past the beautifully constructed tables and on to the slots it's impossible to ignore the roulette-playing crowds and the sound of the ball as it bounces around the wheel.
The History Of Roulette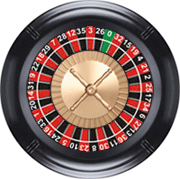 The game as we know it today dates itself back to the turn of the 18th century in France. The word itself translates approximately as 'little wheel' and the version that became popular during these early years was based on a device designed by Blaise Pascal during the 17th century (he was trying to make a perpetual motion machine).
Early roulette wheels featured a zero, a double zero and the numbers 1 – 36 (similar to an American wheel now) but when two French brothers – Francois and Louis Blanc – introduced the single zero as a marketing ploy in a German casino in 1843, that design caught on and eventually became the default standard for European roulette.
Roulette spread to the United States in the 19th century where the zero/double zero format remained in place. The pictures attached show the European versions of the wheel and the betting table. This obviously means that there's a greater house edge in the US than in Europe where only one zero appears.  That number is as follows:
US House Edge – 5.26%
European House Edge – 2.70%
There is no possible combination of bets which will turn the house edge in your favour but claims of successful betting systems such as the Martingale and Fibonacci still exist.
How To Play
Standing at a roulette table and looking at the betting options can be confusing but essentially you are betting on single numbers or groups of numbers such as high/low, odd/even, red/black. Read our comprehensive roulette betting guide by clicking here.
You may place bets up until the croupier tells you to stop and then you must watch as the ball bounces around the spinning wheel and ends up in one of the numbered pockets. Wins will then be paid out and the process will begin again.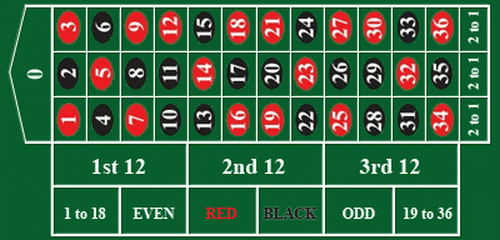 View all our reviewed Roulette games by clicking one of the links below.