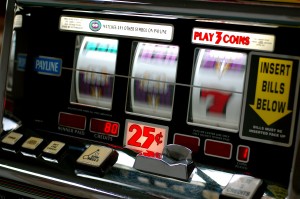 You can find our original article on slot machine variance by clicking here but we'll briefly explain what a high variance machine is. This is a game which pays out rarely but when it does the prizes are bigger. The opposite is of course allow variance slot which pays out little but often.
High variance machines tend to be favoured by high rollers or at least those who have a sufficiently large bankroll to absorb the relatively long winless periods between the hefty wins. Classic three reel slots tend to be high variance but many five reel varieties do as well. When playing five reel machines, the bigger wins may come through the traditional method of reel combinations or bonus feature which are harder to trigger but which pay out more when you can reach them.
How To Spot A High Variance Slot
The most basic way (but not particularly recommended) is to just play the game and see what happens; if the pattern is one of long winless streaks interspersed by decent wins then you are probably playing a high variance game.
Check the paytable – low prizes for three and four symbol wins combined with big wins for five symbols suggests high variance.
Paylines are often not selectable meaning that all are active; this means your lowest stake will often be £/€/$0.25+ per spin.
Tips For Playing High Variance Slots
You already know that your wins will be large but happen only occasionally. The logical step then is to stop playing that particular game when you've just had a big win because you know another won't come along for a while.
Make sure you have a large enough bankroll to be able to ride out the dry spells so keep your bet level low to last for as long as possible.
Try These High Variance Slots
It's all very well reading about high variance but sooner or later it's time to dive in and have a go so below is a list of some of our favourite games when we're feeling a bit flush.  Bear the tips above in mind when you try these out.
Isis – Isis is an enduringly popular Microgaming offering with a huge 10000x base game prize plus a 6x multiplier if you can trigger the free spins. Click here for our review.
Kings Of Chicago – this is a poker-themed game from Net Entertainment with a 10000x base game prize and a tough to reach but enjoyable bonus round. Click here for our review.
Iron Man 2 – there's always room for a Playtech Marvel slot and with Iron Man you'll get the high variance, loads of bonus features and a progressive jackpot. Click here for our review.