Whether you live in London or are an occasional visitor to this great city, it's always handy to know where to go when you fancy a slots fix. While you can wander into any high street betting shop to check out the Fixed Odds Betting Terminals, a real trip out to spin the reels should involve a trip to a casino and London has plenty from which to choose.
Aspers Stratford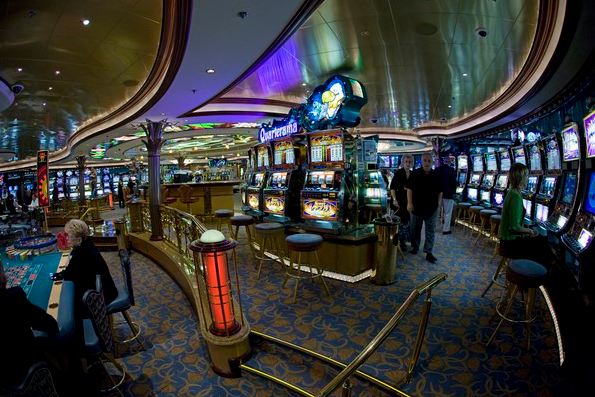 If you're a real slots aficionado then this is the place to start; it's not particularly close to central London but Stratford is still part of the capital and it's where the Olympic village was sited in 2012.
Aspers Stratford is the UK's biggest casino and to match that size it has 150 slot machines to keep you busy. The number of slots in a UK venue is legally relative to the size of the casino so nowhere else in the country can currently match that amount, even if they wanted to. A normal license limits the number of slots to 20.
Games here include those manufactured by IGT, Barcrest, WMS Gaming and Novomatic and the stakes should suit low and high rollers.
It's a very new venue and well-catered for in terms of bars and restaurants and it's also part of the giant Westfield shopping centre so there's somewhere to spend those winnings.
Website: https://www.aspersstratford.co.uk
Grosvenor St Giles
Formally The Gala Casino, this venue is accessed through a door in the reception of the St Giles Hotel on Tottenham Court Road so it's very convenient if you're already in central London and even more convenient if you're a guest at the hotel.
It's a small venue with only around 20 slots and not much variation within that selection but it's quite cosy with a pleasant atmosphere. The location mean it can get quiet busy but you should usually find a free machine and it will be from IGT or Novomatic.
Website: https://www.grosvenorcasinos.com/local-casinos/st-giles
Grosvenor Barracuda
If you're choosing between Grosvenor casinos in London then this is probably the one you should visit; it's situated in Baker Street so it's not so convenient for central London but is bigger than the one at the St Giles hotel and is large enough to feature a bar, restaurant and a dedicated area for slots players away from the table games.
IGT and Novomatic games are what's on offer here and the venue is worth making the trip to even if it's a little further away from the Leicester Square hub.
Website: https://www.grosvenorcasinos.com/local-casinos/barracuda
Grosvenor Casino
Another of central London's casinos is the Grosvenor Casino and it's based on Coventry Street in Piccadilly; even if you have no interest in gambling this is a place which should be visited. It's a refurbished theatre and while all the table games are set at the bottom in the original seating area, the bar is up on the stage and you have to make your way up to the upper levels to find the slots.
They're from IGT, WMS Gaming and Novomatic and the twenty are dotted about in this are, a little like the arrangement at the Hipodrome. There are also some of the Novomatic Gaminator machines which mean you can play different games on the same screen.
There's no restaurant here but you can get snacks from one of the bars and the balcony area overlooking Leicester Sqaure is well worth a visit.
Website: https://www.grosvenorcasinos.com/local-casinos/piccadilly
Palm Beach, Mayfair
If you're looking to play your slots in one of the more luxurious casinos, the Palm Beach in Mayfair is probably the place to go. It's joined on to the Mayfair hotel so try and dress smartly if you're visiting, even though it's not necessary.
All the slots, table games and roulette are in the same area so bear that in mind if you're the type of player who likes to be in a separate environment. Having said that the whole playing area tends to be a bit quitter than some other venues so it's not really an issue.
There are twenty IGT and Novomatic games here and it's also worth pointing out that you pay for the machines with a topped-up membership card which you can get from reception when you first arrive. There's a bar and a restaurant (Mayfair prices) to keep you off the streets a bit longer.
Website: https://www.thepalmbeach.co.uk
The Casino At The Empire
Based in Leicester Square, The Casino At The Empire prides itself on integrating "the thrill of Vegas with the magnetic draw of London" and it does a pretty good job of that.
It's a 24 hour venue and there are 40 video slots available spilt between the upper floor and the London Poker Room. IGT is the major software provider and games such as Cleopatra and Pharaoh's Revenge stand alongside progressive games running IGT's Fort Knox jackpot software. There are also a few Novomatic slots. Low rollers will appreciate the opportunity to play the jackpot games for as little as £0.01 per spin.
When it's time for a break you can eat at the Fulushou Chinese restaurant or visit one of the four bars for some liquid refreshment.
Website: https://www.thecasinolsq.com
The Hippodrome
Another of the Leicester Square casinos, the Hippodrome is a relatively new venue having been a nightclub and a lap dancing club in previous incarnations. It looks fantastic inside and it's open 24 hours but it's fair to say that it doesn't cater for slot fans particularly well.
There are only twenty or so slots and they tend to be spread around the casino so they feel like an add-on rather than an integral part of the proceedings. IGT and Novomatic games are the order of the day but there are better slots venues around the capital. The Hippodrome is worth checking out for the interior and the bars.
Website: https://www.hippodromecasino.com
Napoleons Casino & Restaurant
Another of the Leicester Square venues is Napoleons; it's a 24 hour casino which is currently celebrating it's 25th anniversary. No membership is necessary here, just walk in and play but make sure you have some ID if you want to take away that big win.
There are just 12 slots here with a £10,000 jackpot, the majority from IGT but there's also a bar and restaurant and this is a venue which is well worth a visitor the atmosphere and the decor.
Website: https://www.napoleons-casinos.co.uk/london/