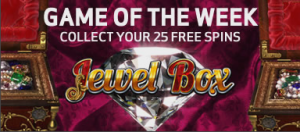 Woohoo! It's Friday, bring on the weekend and two days of relaxing, drinking and (if we can be bothered) going to watch a football match. If we can't drag ourselves outside then there's always the option of firing up our device of choice, heading over to Bet Victor and grabbing twenty five free spins.
All you have to do is wager at least £50 on Victor's game of the week and it's the turn of Jewel Box (review) this time around. This Play N Go slot assails you with tempting glimpses of expensive jewellery along with a prize-picking bonus game and a bonus feature.
If this sounds like your cup of tea then click here to visit Bet Victor to find out more!