♣ Poker Guide  ♣ Poker History  ♣ Poker Variants  ♣ Hand Rankings  ♣ Video Poker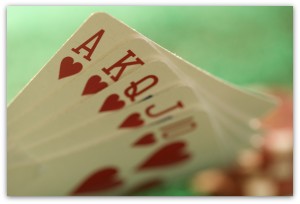 There's a wide variety of poker variants out there and even in the sub-category of community card games there are at least a dozen variations on a them. Lame-Brain Pete belongs in the latter group and we regard it is a home game, certainly not something that would be played in a casino. The reason why will become clear as explain the rules.
Community card poker is a style in which a number of face-up cards on the table are shared by all players.
The aim of Lame-Brain Pete is to create the strongest five card hand according to standard high poker rankings.
Lame-Brain Pete Rules
The game begins with three hole cards dealt to each player after which follows a round of betting in which players can:
Fold – discard the cards
Call – match the biggest bet placed so far
Raise – increase the bet
Now four community cards are laid on the table but between each one there's another round of betting, bringing to five the total number of betting rounds.
If there are at least two players remaining at this point the showdown takes place and the hands are compared according to high poker rankings.
However the twist in Lame-Brain Pete is that the lowest ranking community card becomes wild at the showdown, as do the other three cards of that rank. Unless a 2 appears among the community cards prior to the showdown, the wild remains a mystery.
The final five card hand can comprise any combination of the hole cards and community cards.
The added wild card feature clearly makes strategy difficult to apply for more serious players and that's why  Lame-Brain Pete is bets suited to home games.