♣ Poker Guide  ♣ Poker History  ♣ Poker Variants  ♣ Hand Rankings  ♣ Video Poker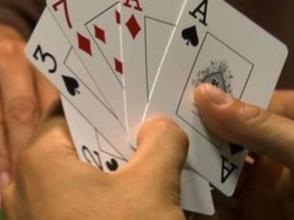 East Village is a derivation of Omaha and it's one of the oddest poker variants out there in our opinion. It's probably more suited to home games and it's not something that turns up in casinos too often. It's a community card game which means that the cards in the centre of the table are shared by all players.
The aim of East Village is to create the strongest hand according to poker high hand rankings. It's ideally played with seven players and blinds so the two players to the left of the dealer will fork out the small and big blinds respectively.
East Village Rules
After the blinds have been laid all players are dealt seven hole cards and the first act is to discard two unwanted cards. These cards do not come into play until the next hand.
Each player now 'donates' one card face down to the dealer who shuffles them; if there are fewer than seven players the dealer adds cards from the deck to make a total of seven. Five of these cards will comprise the community cards with the other two discarded.
After the initial fun and games a round of betting takes place in which players can:
Fold – discard the card
Call – match the biggest bet placed so far
Raise – increase the bet
Now those community cards are used for the flop, the turn and the river as follows:
The Flop – The dealer places three cards face-up on the table and another betting round takes place.
The Turn – The dealer places one card face-up on the table and a betting round takes place.
The River – The dealer places a final card face-up on the table and a final betting round gets underway.
After each one a round of betting occurs. Assuming there are at least two players remaining in the game the hands are compared in the showdown; these hands must comprise two hole cards and three community cards.