There was once a time when visiting a live casino meant getting into your car and driving to your favourites bricks and mortar venue to pursue your gambling pastime of choice. When you'd won or lost enough money  you'd still have to make your way home to celebrate or wallow in your own misfortune.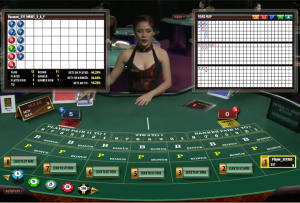 Online casinos now offer the nearest thing possible to visiting one of these venues in the form of what they also refer to as 'live casinos'. The concept is to offer a truly interactive experience for those punters who would like something more than a button to press. Of course the ability to chat when playing various multiplayer games has been around for some time but with live casinos you can see the dealer or croupier in real time and you can chat with him or her via your keyboard.
All of our recommended casinos offer a live casino of some form or another and these can be accessed by clicking the 'Live Casinos' button somewhere on that home screen. You will almost certainly need to be a signed-up customer to access this facility – even to watch without betting – but it's worth it if you want check out how it all works.
Live Casino Games
So what games are available to play then? Well exactly the same table games you would expect to see at Las Vegas, Macau or in that upstairs casino along an Essex high street. That means Blackjack, Roulette, Baccarat and Poker with smooth dealers and croupiers keeping proceedings under control in a very professional way.
Low and high rollers are well-catered for and each game is available in a range of stake levels so whatever your budget you'll find something to suit.
Playing at live casinos also means you know you are getting the genuine RTP for that particular game if you're playing a particular strategy. For example, blackjack players will be aware that by using basic blackjack strategy they can give themselves the best possible chance against the house; playing in real time against real people reassures you that this is indeed the case. Just make sure you have another window open if you need to consult that particular strategy while playing.
Visit this page for access to all our recommended casinos – those dealers and croupiers are waiting for you!