**Please Note: Betsson Casino no longer accepts customers from the UK**
Next Tournament – tba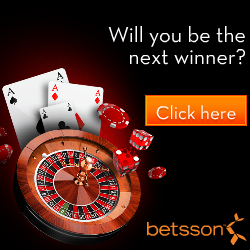 Betsson Casino runs slots tournaments each week but unlike those at Harry Casino and Casino Euro, these generally take place just at weekends although there is the occasional midweek competition.
Each tournament runs from 11pm on Friday evening until one minute before midnight on Sunday so you have just over 48 hours to complete the necessary tasks to ensure your entry.
To enter all you need to do is play the required number of spins on the allocated game (shown above). The default number of spins is 100 but quite often it's as low as 20 so this is a very accessible tournament. If more than one game is part of the tournament, you can combine spins from all games.
The winner will be the player who has achieved the best score according to either the Equalised Payout method (Percentage Win) or Best Consecutive Round Payout, both of which are described in more detail here.
While the tournament is underway you can check your progress when playing the game – it's in a box to the right of the slot. Names of players will listed in various colours accruing to the following criteria:
Black – Minimum rounds not yet completed by you.
Orange – Minimum rounds completed by you.
White – Another player who has completed the minimum rounds.
Gray – Another player who has not yet completed the minimum number of rounds.
In this manner you can compare yourself against the leaders and have another crack at it if you think you can achieve a higher score.
The prizes will be paid into your account within 12 hours and they may be subject to a wagering requirement.