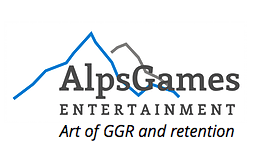 "AlpsGames Entertainment is a highly experienced team of experts in gaming product development which focus on creating the most engaging interactive games and gaming systems for regulated markets in land-based, online, mobile and social gaming."
Based in Estonia, AlpsGames is a well-established developer of online slots, video games, FX technologies and a proprietary Universal Betting System. It's core business lies in various fields:
Universal Betting System (UBS) – a complete hardware/software package to provide betting on sports, Forex, poker and various other activities. It uses proprietary and third-party software in the implementation.
FX-Race Betting – enables fast betting on Forex (foreign exchange) movements with opportunities to win each minute – AlpsGames compares this to roulette.
Online Slots – slots are developed under the Alps+ name and designed to compete with the best it's competitors can offer; these games are suitable for online or land-based implementation.
Crazy Squirrel Jackpot – this is a progressive jackpot network which currently encompasses four games.
Interactive Games – a range of simple interactive games for the mass market.
External Link: https://alexk7expert.wixsite.com/alpsgames
Below is a list of the slots from AlpsGames we've reviewed so far so click on the appropriate link to find out what we think.
AlpsGames Slots