Derby is one of the East Midlands' major cities with an urban population of around a quarter of a million people. Widely regarded as one of the birthplaces of the industrial revolution, it's situated on the banks of the River Derwent. While Derby may not have the same night-time draw as Nottingham, it's great East Midlands rival, it does have a sizeable student population and a willing contingent of partygoers.
As far as casinos go there is just one but the Genting Club Riverlights is a cut above the usual gaming venue and well worth a visit.
Genting Club Riverlights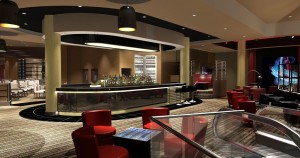 The Genting is located on Morledge, just to the north of the Westfield Shopping Centre and reasonably centrally located if you fancy a punt after a night out. This casino occupies a large building and that's reflected in the interior layout; there's loads of room inside and that's a relatively unusual phenomenon in a UK casino.
Genting regards this venue as an entertainment centre rather than just a casino and as well as the spacious Fahrenheit restaurant there are two bars for when you fancy a break from the gaming tables.
A bigger venue doesn't necessarily mean more slot machines though and here you will find the sort of IGT and Novomatic multigame cabinets as in smaller venues along with FOBT (Fixed Odds Betting Terminals). There are progressive jackpots to win though and plenty of personal service from the helpful staff.
If slots aren't your thing then there are 18 electronic roulette tables as well as American Roulette, Blackjack and Three Card Poker.
Poker plays a big part of what goes on here and there are regular tournaments and cash games to keep you busy. A variety of stakes are available and the casino makes an effort to cater for beginners as well as more experienced players.
Riverlights opening hours are midday until 6am 7 days a week.