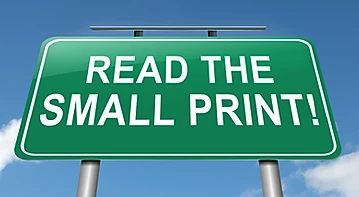 Signing up for a new online casino is a decision making process which encompasses a number of factors such as customer support, usability of the site and number of games available; we are all aware however that the main draw for new customers is the size of the bonus offered. Unfortunately many of those people are still unaware of wagering requirements – what they are and why they mean you are unlikely to be able to withdraw any of that free bonus money.
All casino offer bonuses for new players and all those cash incentives will be subject to what are called wagering requirements. These are unwelcome but necessary because otherwise you would be able to deposit your £100, get a 100% bonus of another £100 and then withdraw £200 back to your bank account. It would be the most generous investment opportunity ever and that website would soon go out of business.
A basic wagering requirement means that the bonus amount must be bet a certain number of times before you can withdraw it. Try this example:
Casino One is offering a 100% bonus up to £50 on your first deposit with a 20x wagering requirement. You deposit £50 and receive another £50 to use at the casino. The 20x requirement means you need to wager £1000 (20 x 50) before any proceeds from that bonus can be withdrawn.
It doesn't take the sharpest tool in the box to realise that betting and winning enough to get to that stage is pretty unlikely. It should also be becoming increasingly clear that this is money to be spent at the casino and nothing more. Wagering requirements tend to vary between 15x – 30x although you may bump against a 50x if you are unlucky.
So that's the basics of the wagering requirement but there are other terms and conditions you should watch out for when picking a likely casino:
Some casinos will add your deposit to the bonus amount and the total will be subject to the requirement before you can withdraw your bonus (you will still be able to access your original deposit however).
You may have to play through the requirement within a certain number of days to access the funds.
Wagering requirements will almost certainly be applied to all subsequent bonuses offered by the casino.
Winnings from free spins occasionally offered by the casino will be subject to the same rules.
We'll finish now with a real life example from one of our favourite casinos; 888 Casino offer a headline grabbing £300 free to new players but of course it comes with strict terms and conditions:
You must use the bonus within 14 days.
The maximum you can win from the bonus is £20.
The wagering requirement is 50x the bonus amount before withdrawal.
However with most casinos there is one exception to the wagering requirement – a progressive jackpot win. You're statistically unlikely to win it of course but why not use that £88 free to give it a go.