….and why you should use it with care.
It's not often that a genuinely new feature appears on the reels but we think that Microgaming has come up with something pretty creative here. Read on to find out why you should try out this innovative idea and why you should also treat it with some caution.
Microgaming has introduced the ability for players to undertake another whole spin of one reel following each full spin.  If you just missed out on that big payout, the respin is an opportunity to spin that single reel and perhaps land the high value symbol in the right place.
The catch of course is that the respin will cost you some money and as you can see from the screenshot below, the cost is proportional to the potential prize on offer.  In this example from Microgaming's Hot Ink slot we've already landed a win with the three girl symbols on reels one, two and three but that symbol is also on reel five so there's a big potential prize available for landing five in a row (with a wild symbol or another girl).  That's why the cost of that spin is £2.46.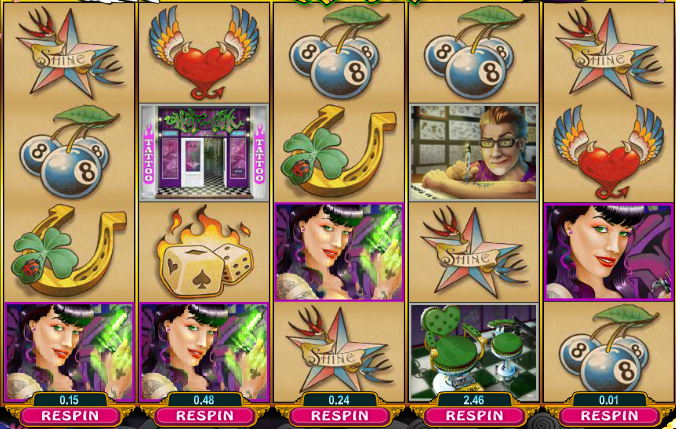 The secondary aspect to the respin is that only wins involving the respun reel will win; without this knowledge you could take a look at reel five, see that it only costs £0.01 to spin and think you're onto a winner by landing the three girls on the first three reels again and again – sadly that is not the case.
So this feature is certainly a welcome addition to the reels but it should also be handled with care; don't be tempted to endlessly spin that reel in the hope of landing a big win.  If the theoretical return to the player is 95%, it's 95% with or without this feature.  If you'd like to try out a couple of games containing this feature then we can certainly recommend Hot Ink and Retro Reels Diamond Glitz – to see the respins in action check out the video below.