Vying with Birmingham for the title of England's second city, Manchester has been undergoing a twenty year renovation and any visitor to this city will tell you how impressive it now is. Part of that redevelopment has included a number of new casinos to service the needs of this exciting northern city. If you like Genting casinos you'll be right at home in Manchester – there are several.
Manchester 235
Manchester 235 is part of the Caesars Entertainment Group and the newest casino in the city. It's situated just off Deansgate in the centre of the city and once you're inside you'll be aware that it's bigger than the average UK venue. As far as slots go it features the usual twenty IGT and Novomatic Gaminator slots such as Cleopatra and Pharaoh's Fortune and its open 24 hours.
Telly chef James Martin has a restaurant here but there's also a Chinese if your tastes are oriental; there are two bars – the Vega Lounge for the unwashed masses and then the invite only Icon Vip Bar (maybe that's where James Martin drinks).
Website: https://www.manchester235.com
Genting Club Manchester
Right in the centre of Manchester near the Novotel Manchester Centre, the Genting Club was previously called the Manchester Circus. IGT games are here as well as Novomatic Dominator and Gaminator terminals, limited of course to the usual twenty.
This is a 24 hour casino and the brand new Fahrenheit Bar and restaurant is well worth a visit.
Website: https://www.gentingcasinos.co.uk/club/manchester/
Genting Salford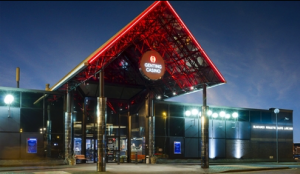 Salford's on the outskirts of Manchester and another area of the city to undergo some substantial redevelopment. Without that investment we may never have seen the Genting Casino here. Obviously it's part of the Genting group and it was previously known as the Manchester Albion.
You won't be surprised to hear that the selection of twenty slots is made up of Novomatic Gaminators and IGTs (some progressive) and there's a bar to keep you refreshed which is open until 5am. The well-priced Fahrenheit restaurant is open every evening for meals.
Website: https://www.gentingcasinos.co.uk/casino/salford/
Grosvenor Casinos
Head to Derwent Street in Salford for a visit to the Grosvenor and this is another 24 hour venue which is worth visiting even if you not a gambler. There's a bar where you can watch sports events and while parking may sound boring, it's free on the street between 8pm and 8am.
You may already have guessed that IGT and Novomatic slots are what's available here with potential jackpots of £10,000.
Two similar venues close to the city centre are the Grosvenor Soames and the Grosvenor G.
Websites: