Bristol may not have the romantic allure of some of the UK's other great cities but that doesn't mean it's not a excellent night out if you happen to be in the area. It's also got several casinos which are worth a visit if the gambling fancy takes hold.
Rainbow Casino
Rainbow Casino is situated on Portland Road just south of Edgbaston reservoir and it's fair to say that it's something of a destination for poker players with it's regular tournaments. Blackjack and American roulette are also on the menu here but there are also a number of slots available for those who fancy spinning the reels. Jackpots for these are a maximum of £4000.
No membership is required here so you can just go in and use the facilities if you like, including the bar and restaurant but members do get some useful discounts and various vouchers from the casino.
Website: https://www.rainbowcasino.co.uk/index.php
Genting Bristol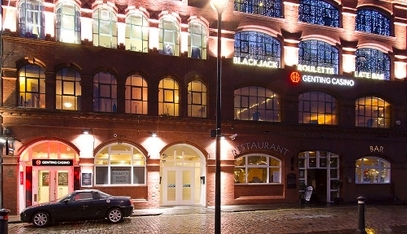 Of course there's a Genting casino here and it's situated on Portwall Street between the River Avon and the floating harbour. Genting aficionados will know what to expect here but this is a recently refurbished location so it's a good time to visit.
Aside from the usual table games you will find plenty of multi-game cabinets here from IGT, Novomatic and Spielo and there are progressive jackpots up to £8000 available if you're playing one of the Novomatic machines. There's a bar which will provide some much-needed refreshment after a spell on the slots.
Opening times are 1pm – 5am weekdays and until 6am Saturdays, Sundays and Mondays.
Website: https://www.gentingcasinos.co.uk/casino/bristol/
Grosvenor Bristol
This particular Grosvenor branch is one of Bristol's smaller casinos but if you're in the area it's worth a visit. It's situated on Anchor Road just south of College Green and while there are a couple of live roulette and blackjack tables, there are a decent range of slots. It can get quite busy around the slots but there's a decent enough bar area to dodge the gambling crowds if necessary. You'll find IGT, Novomatic and WMS Gaming machines here.
The Grosvenor is open 24/7.
Website: https://www.grosvenorcasinos.com/local-casinos/bristol