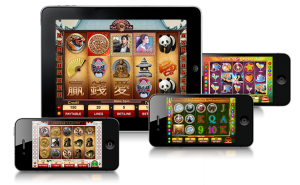 As more and more of us spend our leisure time swiping and tapping the screens on our mobile devices it becomes more and more important to recognise how integral these smartphones and tablets are going to be in our lives in the years to come.
For online slots players such as ourselves, and of course other gamblers, it is clearly much easier to switch on the mobile device rather than boot up the laptop or the desktop computer. You can spin the reels while watching TV, sitting on the bus or on the train. Fast 3G and 4G networks mean that, if you wanted to, you could go to the pub, sit at the bar and load up a UK-style slot rather than putting money in the fruit machine in the corner.
Ideally, all casino apps would be born equal but they are not; in fact many which call themselves apps are in fact just the mobile versions of the desktop website. This version will automatically load up when you visit the usual site on your mobile device. It might look and feel like an app but it is not. If you follow the popup suggestion to install the app then all you are doing as adding a shortcut button to your device.
In our experience relatively few casinos have actually made the leap into producing a genuine app; search Apple's app store or the Google Play store and you will find very few genuine casino options. We obviously have good reasons for recommending the casinos we play at but only a handful of those have a dedicated app available to download.
Jackpot City Casino, Winner Casino and Bet Victor are all available if you're an iPhone or iPad user, only 888 Casino has apps suitable for the latter and for Android devices. Betsson Casino recently announced the release of an app for Android devices but even this is only a mobile version of the website which looks and feels like an app.
App vs Mobile Website
You may well ask what the difference is and frankly, for slots fans and other casino users there isn't much. If you use the app you will have downloaded the software onto your device; use the mobile website and it's all done online, as if you were playing through your browser (which you are). That little icon on your screen is a shortcut to the website and that's all.