Adding a gambling feature onto a game which is in itself a way of gambling may seem a little over the top but that's what we're going to discuss in this article. Most players will already be aware to what we're referring but for those who don't know we're talking about the opportunity to gamble your most recent win by playing a mini-game.
If you use the Autoplay function you'll never see the gamble feature; you need to be playing single spins so that the game has time to offer you the chance to try your luck after each win. Almost without exception a 'Gamble' button will start flashing underneath the reels and it you fancy your chances just press it.
You will now be presented with one of various options depending on the game you're playing and we've listed some of the most common below. You can back out if you change your mind and as you progress you can usually collect half of your winnings and continue or take it all and return to the base game. A wrong guess will dump you back in the base game with no winnings.  You will normally find that there is a winning limit of five correct guesses or a coin/cash amount to stop you bankrupting the casino.  For more advice on how to play these features click here.
The 50/50 Gamble
In this version all you need to do is press the Gamble button and hope that you pot luck timing is correct to double up your winnings. You can see how it works in the Win Wizard screenshot below.
The 50/50 Playing Card Gamble
In this game you will be trying to guess whether the next playing card to be revealed is red or black so it should be a 50/50 punt. As the Just Jewels screenshot below shows, you will usually also see a record of the previous cards. This means nothing because of course the odds should revert back to 50/50 after each guess.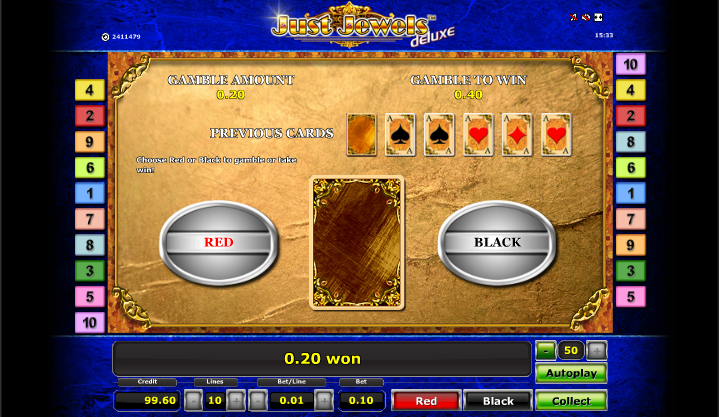 The 50/50 or 1/4 Playing Card Gamble
Here we can play the above 50/50 wager or increase the odds and try and pick the correct suit for a one in four punt. Check it out in the Aztec Idols screenshot below.
We always advise players to approach this feature with care – you're already battling against the odds just by playing the slot to begin with so use this with caution. We recommend having the occasional punt but don't try to progress past more than one or two correct guesses, it's the surefire way to deplete your bankroll.