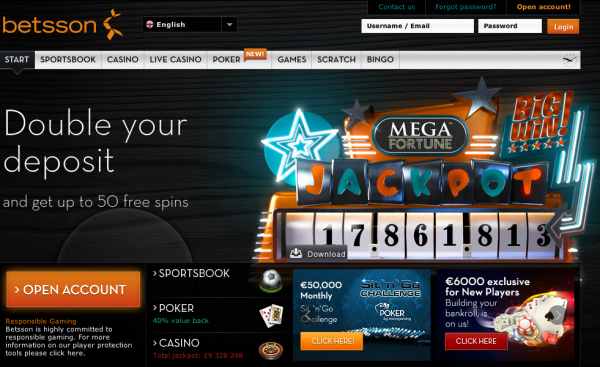 Click here to get €100 and fifty free slots spins with Betsson Casino
Whether or not an online casino has a top-notch mobile version of it's website is an increasingly important factor in the decision making process of many potential players.  When we talk about mobile devices we are of course referring to smartphones and tablets, an area of the market which has increased massively in recent years.
Following the release of Apple's first iPhone in 2007 it quickly became possible to create software to make full use of that nice big screen and top quality graphics; gaming applications were quickly released on to the platform and when the Android operating system and the iPad were released it became clear that this was the future of online gambling.
Betsson Casino have offered a mobile version of their desktop site for some time now and it's as good as any in terms of looks and usability.  To access the site you just need to visit the casino on your device and you'll be taken straight there – there's no need to select the option at any point.
It's possible to sign up as a player directly from the mobile site and on the front page you'll see a slider at the top with the latest games while directly below is a list of every video slot available on this platform.  Below the slots are the table games and then the video poker  with more added all the time.
The slots themselves are slightly different from the desktop versions as they are designed to fill up the entire screen space available; the various options are accessed via a button in the top right hand corner but this easily becomes second nature if, for example, you want to adjust your bet levels or turn the sound off.
In the bottom right hand corner of the main screen there's a 'Menu' button which offers easy access to all the options you would see on the desktop site; you can check out the bonuses and promotions, deposit money, access customer support and anything else you might want to do.  You can also swap over to the sports betting site or the scratch card site if that's your thing.